Forest School
Page 2 of 2
Forest School News!
December 2017
4th Dec 2017:
Some of our forest schoolers used a new tool today! They were very excited to use the Laplander saw! Another forest schooler took a few minutes to sit in her quiet place and watch the world go by!
November 2017
After a bit of snow in the afternoon, what better way to end the day than smores and hot chocolate around a fire?

Three Forest schoolers below showing the respect position by the fire they made themselves while others having a great time on their own DIY zip line! Lastly an eager Forest Schooler who's just found a huge pile of leaves!
This forest schooler (right) has really been getting into the autumn spirit.
October 2017
10th October 2017: The forest schoolers have been having a great week! Using what they learnt about fire making last week they've been boiling their own water using Kelly Kettles and making their own hot chocolate!
On the LEFT: Literally jumping for joy after making their first fire! On the RIGHT: Whilst playing around some logs one of the Forest Schoolers found a frog! The children thought it would be a great idea to take a photo but the frog wasn't even remotely interested and promptly decided to jump in to another child's face!
September 2017
The weather held out for our first forest school session of the year! Pear class were given a tour of the forest school site before playing and picking various fruit and vegetables!
July 2017
Another day of forest schooling. We believe the smiles on the children's faces say it all.
To the right: A forest school enthusiast brandishing the wand that she whittled in forest school today!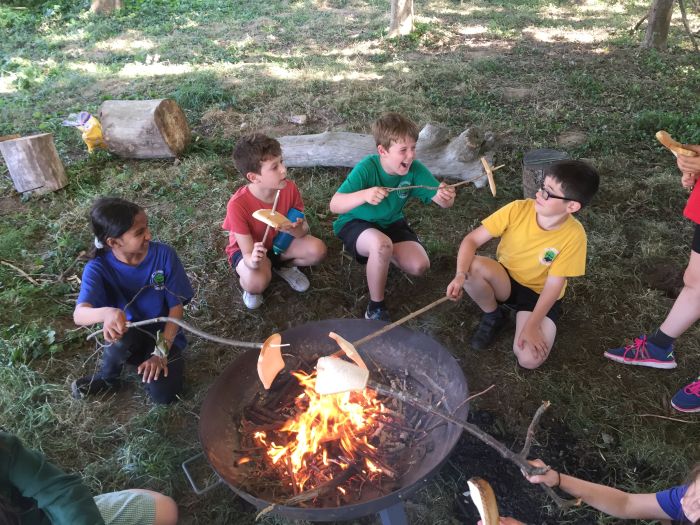 To the left: A few year 4 kids had a great time making toast over the fire in forest school today!
Today was a chance for parents to come in and see all the activities the children have been doing in forest school as well as all the work children have been doing based around habitats and nature. A great time had by all!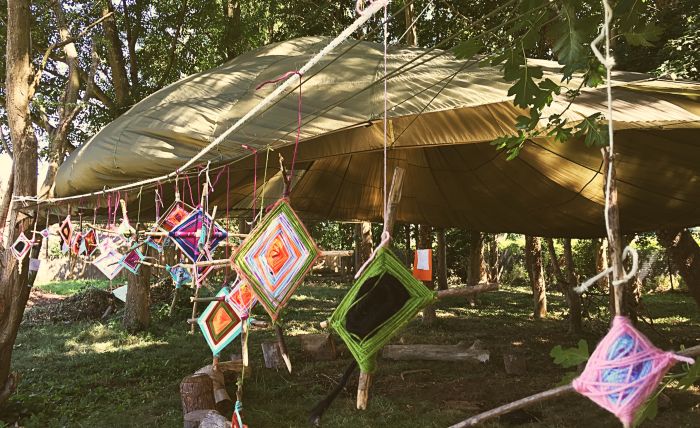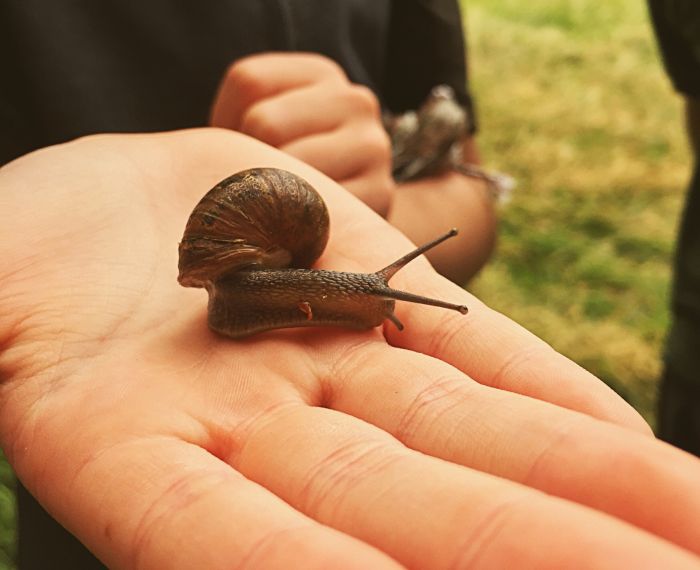 June 2017
Today was the first time the kids had toasted over the fire with toasting forks that they'd whittled themselves! Mr chamberlain was surprised by how hungry they were, they ate 12 crumpets and an entire loaf of bread!
(22 June 2017): What a day we had today! The children planted 20 pumpkin seeds, made a cracking compost heap, and even made a start on some toasting forks for our crumpets next week.
May 2017
24th May 2017: Today 28 children spent the morning in the Forest School producing Andy Goldsworthy inspired sculptures. Some year 5 boys decided to take up the log challenge but unfortunately were unsuccessful!
23 May 2017: Who said Forest School is all about work? Children got to make their own swing with the help from a friendly tree!
April 2017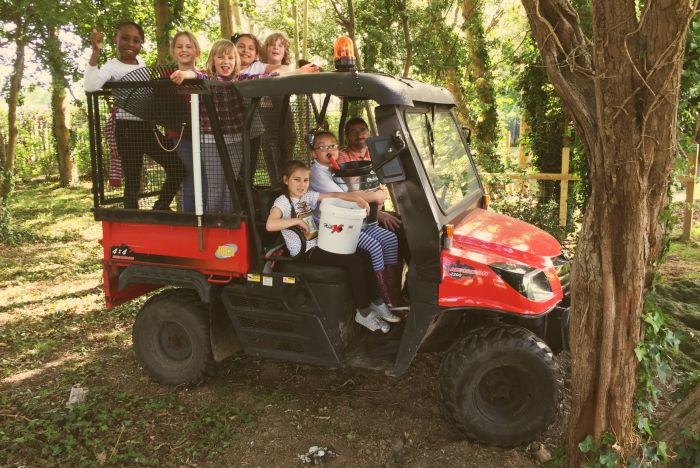 The children had a busy session today, trekking through brambles in search of wood! They got so tired they had to hitch a lift back to school!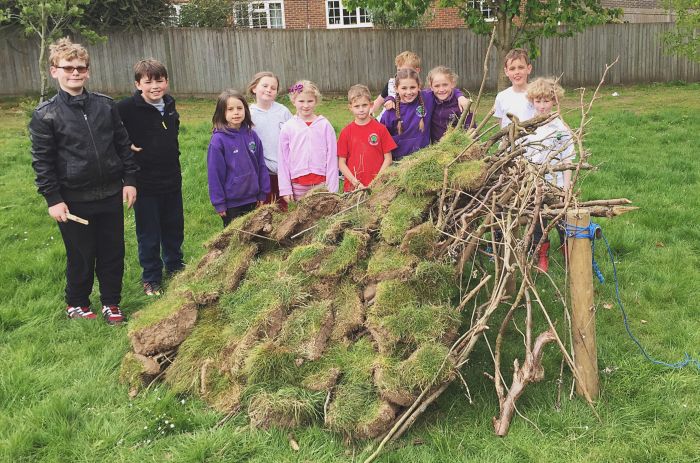 The children have been practicing their shelter building!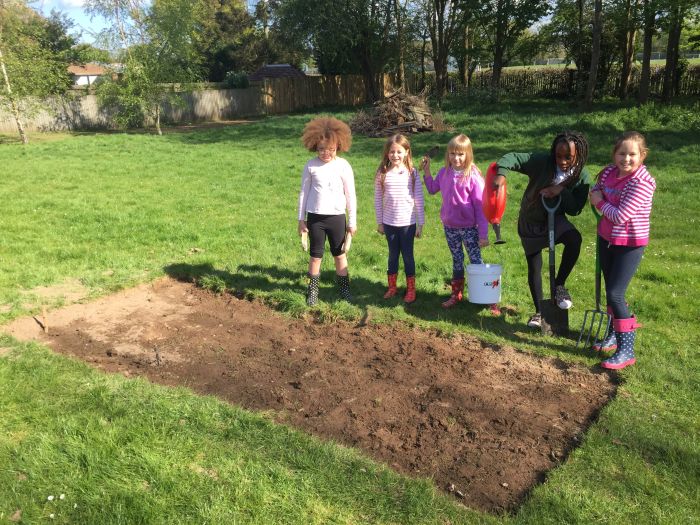 These girls from year 4 are very proud of themselves and rightly so! Over 2 sessions they've begun and finished our vegetable patch!
March 2017
This year 4 made a huge chain of daisies at the forest school site

.

The Outdoors club taking a well earned rest after making our fire circle (minus the fire)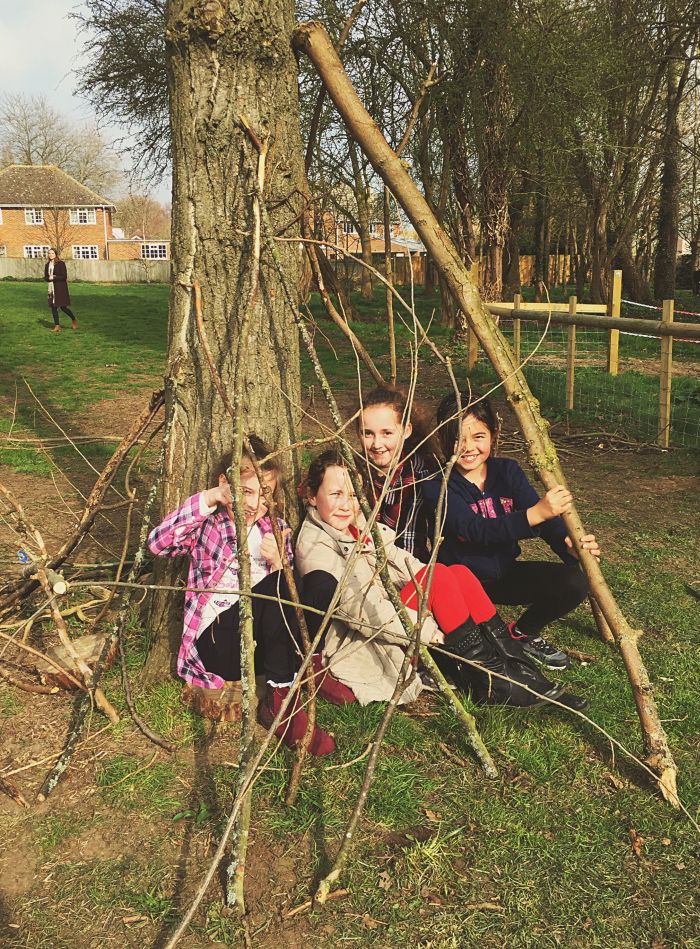 Friday afternoon was the perfect chance for these year 4 girls to show off their den making skills!
We were all very excited to get our first shelter off the ground and everything started out well! Our human weights were having a great time under the tarpaulin until the wind ripped it! We'll check the weather next time!
After finding some wooden discs on the floor and without being given any instructions, children who do not play together normally began working together and treating them like stepping stones!
A simple example of child lead learning!