Forest School
Page 2 of 2
News and updates...what we're doing.
8th October 2018: What a great day in forest School! Year 3 made mud faces this morning and Year 6 made camouflaged Dinosaur proof shelters this afternoon!
4th October 2018: Oak class have shown that Together Everyone Achieves More #teamwork
29th June 2018: Forest school has finished its first year at St. Stephen's Junior School. The last session was a fantastic opportunity for the children to reflect on their favourite memories of Forest School. The two boys on the right used an axe for the first time!
24th May 2018:The forest schoolers have been checking Mr. Chamberlain's hammock to see if it's as comfy as he says it is before Porch Light tonight!
18th May 2018:
It's been a busy week for the Forest Schoolers!
Year 4 Forest Schoolers have been making snake habitats and carving snakes out of twigs.
Year 4 Volunteers looked after the Nursery children in a scavenger hunt which was their first time in our Forest School Site.
11th May 2018: Outdoor Club has started up again this term with a fresh batch of Forest Schoolers! This was their first time in the Ditch on the guided tour!
Update: 20th April 2018
The Forest Schoolers have been focussing on Teamwork this week, what better way to do this than a huge game of "The Floor Is Lava". Children had to work together to make a safe path from one side of Forest School to the other.
Update: 20th March 2018: Last week at Forest School the children were told a story about a mean troll called Derek who tried to eat the toes of little children. The Forest Schoolers showed their creativity when it came time to make their very own "Derek" (without a description). Some of them even found the time to make a maze (from the story) to trap Derek in!
March 2018 - Mr Chamberlain reflects on the progress of our Forest School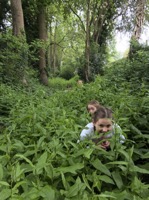 Since September, the Year 4 pupils at St. Stephen's Junior School have been visiting the Forest School once a week, come rain or shine. Forest School is an inspirational process that offers all learners regular opportunities to achieve and develop confidence and self-esteem through hands-on learning experiences in a woodland or natural environment with trees.
At Forest School we are incorporating some of our school values in to our sessions. The children have really shown their talents this year with activities ranging from survival skills (the safe use of fire, knot tying, making shelters and using knives and other tools) to Art (making DIY paint brushes, mud paint, making bug hotels etc). We've incorporated the outdoors in to our Year 4 topics this term, the children spent an afternoon in the forest school for "Viking Day" making Viking bread and play tug of war and then our "Wild West Day" included throwing Lassos and making Tipis!
Forest School is a long-term project which is why the children have been able to enjoy the outdoors throughout the seasons. We are looking forward to the summer term as it means that we will be able to plant more trees and see our vegetable patch thrive! St. Stephen's Junior School would welcome donations of any of the following items: Wellies that your children have outgrown, gardening equipment, plants/seeds, tarpaulin, camping equipment, waterproof coats/trousers, and wooly hats/gloves/scarves. We would also be pleased to show any interested parties around our Forest School!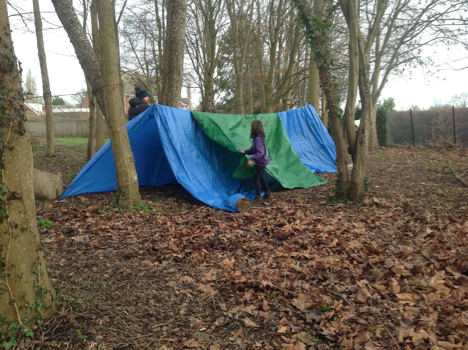 January 2018
Forest School has been focused around making shelters using Man-Made materials this week! The children have learnt how to make a waterproof A-Frame shelter using nothing but Tarpaulin and Parachord! They thoroughly enjoyed testing to see if they really were waterproof!