Safeguarding and e-Safety
Safeguarding
The Governors and staff of St. Stephen's Junior School take seriously our responsibility to promote the welfare and safeguard all the children and young people entrusted to our care.
Here is our Safeguarding Policy 2016
As part of the ethos of the school we are committed to:
Maintaining children's welfare as our paramount concern
Providing an environment in which children and young people feel safe, secure, valued and respected
Using the curriculum to provide opportunities for increasing self awareness, self esteem, assertiveness and decision making
Working with parents to build an understanding of the school's responsibility to ensure the welfare of all children
Ensuring all staff are able to recognise the signs and symptoms of abuse
Monitoring children and young people who have been identified as "in need"
Developing effective and supportive liaison with other agencies
e-Safety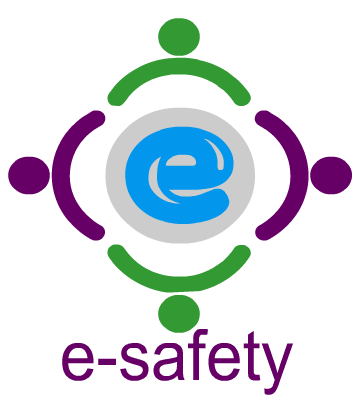 All pupils use computer facilities including internet access as an essential part of learning, as required by the National Curriculum. Your child will have the opportunity to access a wide range of information and communication technology (ICT) resources. This includes access to: Computers and laptops, Internet, Ipads and Digital cameras.
St. Stephen's Junior School recognise the essential and important contribution that technology plays in promoting children's learning and development and offers a fantastic range of positive activities and experiences. However, we also recognise that there are potential risks involved when using technology and have therefore developed online e safety policies and procedures alongside the school's safeguarding measures including filtering, monitoring and specific use of personal devices.
The school takes responsibility for your child's online safety very seriously and, as such, we ensure that pupils are educated about safe use of technology and will take every reasonable precaution to ensure that pupils cannot access inappropriate materials whilst using school equipment.(eg filtering, supervision, controlled content). However, no system can be guaranteed to be 100% safe and the school cannot be held responsible for the content of materials accessed through the internet and the school is not liable for any damages arising from use of the school's internet and ICT facilities.
We request that all parents/carers support the school's approach to e-Safety by role modelling safe and positive online behaviour for their child and by discussing online safety with them whenever they access technology at home.
Parents/carers may like to visit www.thinkuknow.co.uk, www.childnet.com, www.nspcc.org.uk/onlinesafety, www.saferinternet.org.uk and www.internetmatters.org for more information about keeping children safe online.
Whilst the school monitors and manages technology use in school we believe that children themselves have an important role in developing responsible online behaviours. St. Stephen's Junior School asks that all parents read and sign the "Pupil Acceptable Use Policy" with their child. This provides an opportunity for conversation between parents and children about safe and appropriate use of technology, both at school and at home.
A copy of the school's "Pupil Acceptable Use Policy" and "E-Safety Policy" are available online or a paper copy by request.
Safeguarding Info Leaflet
You can download the full leaflet HERE
Digital Leaders Programme - A Childnet Initiative
Following a small recruitment drive within our Year 5 year group, 10 children expressed interest and applied to take part in our Digital Leaders programme.
Information from the Childnet website best describes the programme:
The Childnet Digital Leaders Programme aims to empower children and young people to champion digital citizenship and digital creativity within their schools and to educate their peers, parents and teachers about staying safe online.

This youth leadership programme offers pupils an exciting online community, structured training and ongoing support from Childnet's expert team, helping make e-safety learning fun and effective and helping schools work towards an outstanding whole school community approach to e-safety.

Once they have completed all online modules, they then become a 'Qualified Digital Leader'. As they complete the various modules, students receive digital badges on the platform which keeps their motivation going.

Qualified Digital Leaders are encouraged to run various activities in schools, such as educating other students to tell them how to keep safe online, writing a leaflet for parents or making a poster.
Parent Info is a new free service for schools produced by Parent Zone, which has been providing information and support to parents for a decade, and CEOP, the child exploitation and online protection command of the National Crime Agency.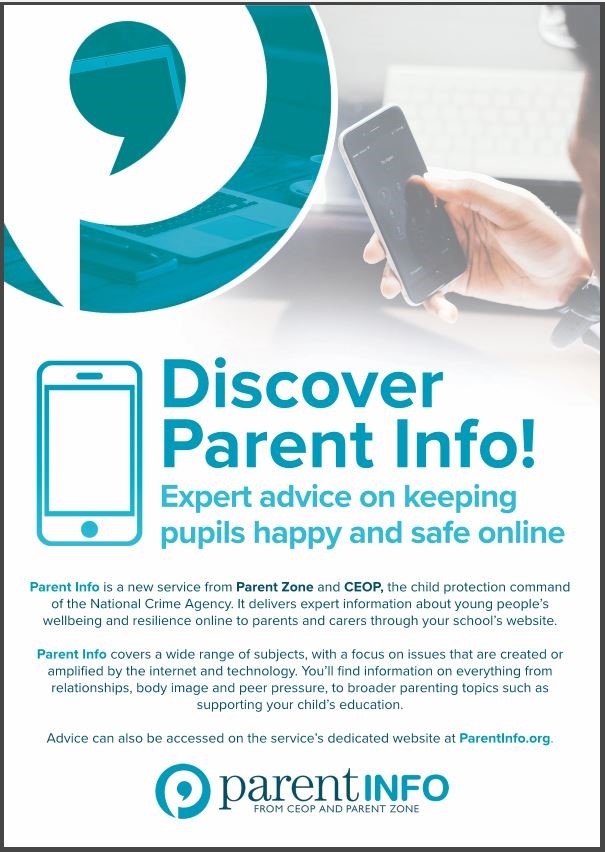 Here you'll find a collection of articles, tips, expert advice and resources designed to help parents keep up with what their children are doing online.
Essential e-Safety Reading Material
Vodafone - Digital Parenting magazine and other important information
Other Links
http://www.net-aware.org.uk/- A parent's guide to social networking (provides a guide to the social media apps and sites incl. sign up age, reporting and blocking features and how to change privacy settings)
CEOP - Child Exploitation and Online Protection Centre
e-Safety Newsletters